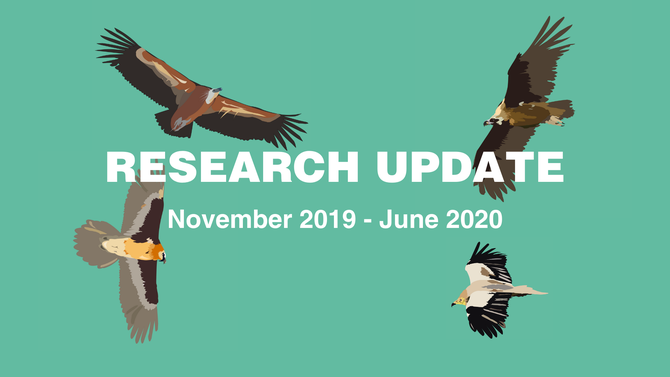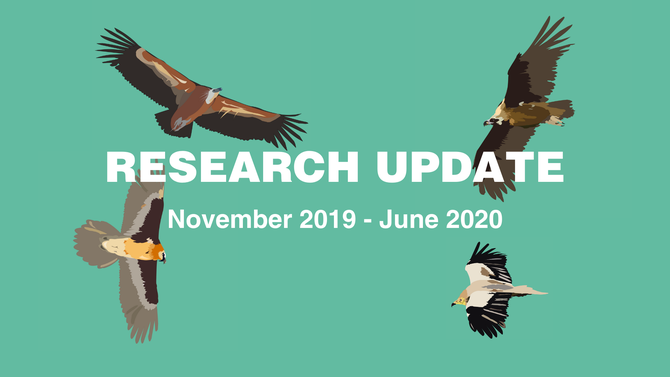 In this research update we provide a list of recent vulture-related research articles covering a range of topics including movement ecology, environmental contaminants, population dynamics, conservation measures and methods for monitoring and research, mainly published between November 2019 and June 2020.
If the full articles are not freely available, please contact the authors directly. Please refer to previous research updates on the VCF website for other recent articles which are not included here.
If you notice any missing articles please do let us know!
Monitoring and applied research methods:
Movements, spatial ecology and migration:
Subedi, T.R., Pérez‐García, J.M., Sah, S.A., Gurung, S., Baral, H.S., Poudyal, L.P., Lee, H., Thomsett, S., Virani, M.Z. and Anadón, J.D. (2020), Spatial and temporal movement of the Bearded Vulture using GPS telemetry in the Himalayas of Nepal. Ibis, 162: 563-571. https://doi.org/10.1111/ibi.12799
Gutiérrez‐Cánovas, C., Moleón, M., Mateo‐Tomás, P., Olea, P.P., Sebastián‐González, E. and Sánchez‐Zapata, J.A. (2020), Large home range scavengers support higher rates of carcass removal. Funct Ecol. Accepted Author Manuscript. doi:10.1111/1365-2435.13619
Thompson, L., Barber, D., Bechard, M., Botha, A., Wolter, K., & Neser, W. et al. (2020). Variation in monthly sizes of home‐ranges of Hooded Vultures Necrosyrtes monachus in western, eastern and southern Africa. Ibis. doi: 10.1111/ibi.12836
Holland, A.E., Byrne, M.E., Hepinstall-Cymerman, J. et al. (2019) Evidence of niche differentiation for two sympatric vulture species in the Southeastern United States. Mov Ecol 7, 31. https://doi.org/10.1186/s40462-019-0179-z
Richard P. Reading, John Azua, Travis Garrett, David Kenny, Hansoo Lee, Woon Kee Paek, Nanette Reece, Purevsuren Tsolmonjav, Mary Jo Willis, Ganchimeg Wingard, Differential movement of adult and juvenile Cinereous Vultures (Aegypius monachus) (Accipitriformes: Accipitridae) in Northeast Asia. Journal of Asia-Pacific Biodiversity, 13:156-161, https://doi.org/10.1016/j.japb.2020.01.004
Arizaga et al. (2020). Home range and habitat use of a bearded vulture Gypaetus barbatus L., 1758 along the western border of its Pyrenean distribution area. Munibe, Cienc. nat. 67, 2019 • pp. 7-17. https://doi.org/10.21630/mcn.2019.67.01
Ruth García-Jiménez, José María Martínez-González, Pilar Oliva-Vidal, Josep Piqué, José Antonio Sesé & Antoni Margalida (2020) Nocturnal flights by Bearded Vultures Gypaetus barbatus detected for the first-time using GPS and accelerometer data, Bird Study, DOI: 10.1080/00063657.2020.1781054
Environmental contaminants such as lead, veterinary drugs and poisons:
Human-vulture interactions, influences and ecosystem services:
Power lines, wind farms:
Joana Bernardino, Ricardo C. Martins, Regina Bispo, Francisco Moreira (2019). Re-assessing the effectiveness of wire-marking to mitigate bird collisions with power lines: A meta-analysis and guidelines for field studies. Journal of Environmental Management, https://doi.org/10.1016/j.jenvman.2019.109651
Miguel Ferrer, Virginia Morandini, Ryan Baumbusch, Roberto Muriel, Manuela De Lucas, Cecilia Calabuig (2020). Efficacy of different types of "bird flight diverter" in reducing bird mortality due to collision with transmission power lines. Global Ecology and Conservation, https://doi.org/10.1016/j.gecco.2020.e01130
Sánchez, R., Sánchez, J., Oria, J. et al. Do supplemental perches influence electrocution risk for diurnal raptors? Avian Res 11, 20 (2020). https://doi.org/10.1186/s40657-020-00206-9
General ecology, behaviour and physiology:
Distribution, demography, phylogeny and population dynamics:
General conservation:
Colomer, M.À., Oliva‐Vidal, P., Jiménez, J., Martínez, J.M. and Margalida, A. (2020), Prioritizing among removal scenarios for the reintroduction of endangered species: insights from bearded vulture simulation modeling. Anim Conserv. doi:10.1111/acv.12549
Williams, DR, Balmford, A, Wilcove, DS. The past and future role of conservation science in saving biodiversity. Conservation Letters. 2020;e12720. https://doi.org/10.1111/conl.12720
McGowan, J., Beaumont, L.J., Smith, R.J. et al. Conservation prioritization can resolve the flagship species conundrum. Nat Commun 11, 994 (2020). https://doi.org/10.1038/s41467-020-14554-z
Additions after initial posting
Chiereghin, M and Sartirana, F. (2020), Prima nidificazione con successo di Gipeto (Gypaetus barbatus) in Piemonte dall'inizio del progetto di reintroduzione della specie sulle Alpi. Rivista Italiana di Ornitologia. 89. https://doi.org/10.4081/rio.2019.439
Stoyanov, G., Peshev, H., Kmetova-Biro, E., Opramolla, G., Moreno Casado, C., Posillico, M., Licheva, V., and Stoynov, E. (2020) Observation in Bulgaria of a Griffon Vulture Gyps fulvus tagged in Spain, Ringing & Migration. 10.1080/03078698.2019.1759905
Sign up to our monthly newsletter and stay updated with Europe's vultures!