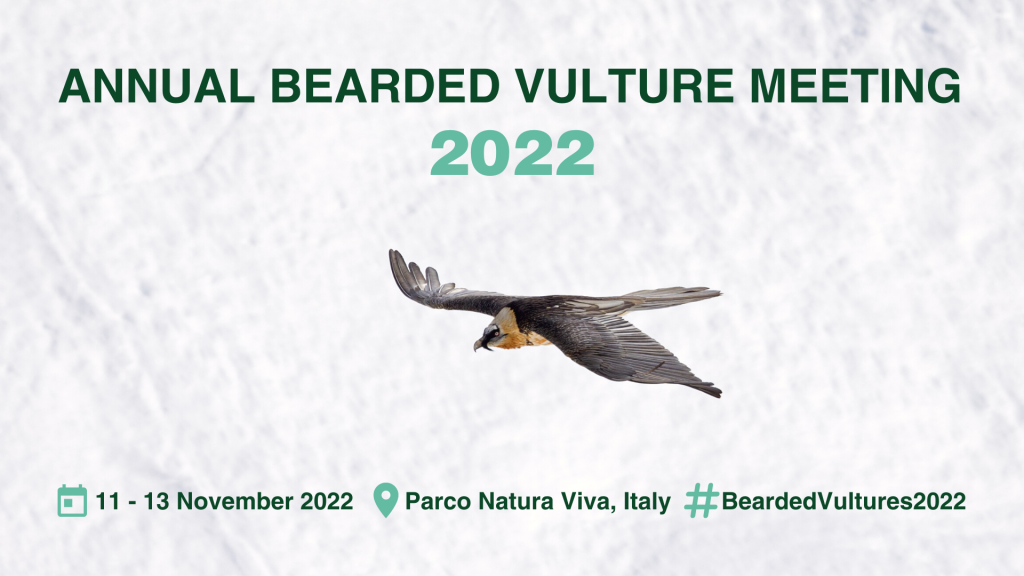 The Annual Bearded Vulture Meeting 2022 is approaching and registration is now open! The event will take place from 11 to 13 November 2022 at Parco Natura Viva in Bussolengo, Italy.
We invite all Bearded Vulture experts and enthusiasts to join us to learn from each other and celebrate the species together.
Programme
Our research team is preparing an exciting programme featuring the latest developments on Bearded Vulture conservation and research projects in Europe and elsewhere. The Annual Bearded Vulture Meeting 2022 will provide insight into many topics such as captive breeding, release strategies, reproduction trends and recent studies.
If you would like the opportunity to present your work during the meeting, please email Franziska at science@4vultures.org until 10 October.
Logistics
It's time to start planning your trip. All the details about the conference room, accommodation, travel and meals are available on the official event page of the Annual Bearded Vulture Meeting 2022.
Registration
Registration for the Annual Bearded Vulture Meeting has opened. To secure your place, you must fill in the online registration form by 20 October 2022.
You can stay up to date with the latest news and announcements about the meeting by searching #BeardedVultures2022 on Twitter, LinkedIn and Instagram.